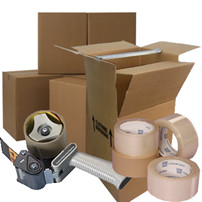 Moving day is coming up quickly. You've got the new place lined up, ready to be moved in to. Your friends and family have agreed to help, and you are counting down the days. The following is a checklist of packing materials you will want to have on hand for the big move:
_______1. Moving Boxes– Consider getting as many as possible in a wide variety of sizes. Second-hand boxes are ok, though new boxes are stronger and won't buckle, bend or bow under weight.
_______2. Bubble Wrap– Anything at all that you don't want damaged in the move should be wrapped in bubble wrap before being boxed up. There are different sizes of bubble wrap in packing materials.
_______3. Packing Peanuts– Though they can be messy, these are invaluable for filling up empty spaces in boxes, allowing for shock absorbency and preventing movement of items.
_______4. Packing Tape– Packing tape is the strongest tape out there. It also seals a lot tighter than duct tape, so is a better option for closing boxes.
_______5. Labeling Materials– A bunch of un-labeled boxes can be a nightmare when it comes to unpacking. You can have a color-coded-by-room system or a scribble-items-on-the-lid system, but either way, you'll want plenty of permanent markers, scissors and labels on hand.
_______6. Plastic Wrap- It helps to wrap larger items in plastic wrap to offer a little more protection for the items and to stop extra movement, like drawers falling out, etc. It also helps keep moisture and critters out if you anticipate a long move.
_______7. Donuts and Juice– Ok, these are maybe not packing materials, but you'll definitely want to consider feeding the troops. Not only will they appreciate it, but they'll have more energy for the unpacking, too!
If you're looking for packing materials in North Carolina, contact Port City Movers today. We have a wide variety of boxes to fit your every need, from a wide range of sizes to specialty boxes like wardrobe or mirror boxes. We can make your move "A Good Move"!