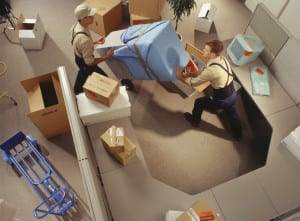 Your business is going to change and grow over time; moving to a larger or different space will become a necessity. To keep your business on track and functioning as it needs to throughout the move, you'll want to hire commercial moving services.
First, consider the potential downtime for your business. Whenever possible, you'll want to plan in advance in order to create the least amount of hassle and non-productivity for your employees and for your customers. The shorter the downtime is, the easier it will be for your employees and you to continue with what you're best at. Commercial moving services can make a move easier and faster than any company could reasonably expect to accomplish on their own.
Second, consider the distance of the move and how much will actually be moved. Larger moves will require more personnel and moving space, in addition to the time needed to prepare for and completely unpack from the move. Also consider if moving in several stages would make more sense for your business; commercial moving services could allow part of your business to continue functioning until the new space is ready for commercial traffic.
At Port City Movers, we're here to help you with all your moving and storage needs. We've been moving North Carolina since 1970. We serve primarily Charlotte, Mooresville, Lake Norman, Cornelius, and Huntersville, but are more than willing and able to assist in your move anywhere in North Carolina or any of the surrounding states. We can provide boxes, trucks, and movers to assist you. No matter what your particular needs might be, we're always "A Good Move."