Moving to a new place can be a fun and exciting time- new location, new home, new acquaintances. Most of us, however, have a hard time being excited because the thought of packing up the entire home is entirely too daunting to even begin. And while there is a lot about the process that can be overwhelming, if you prepare yourself with the right moving supplies, the task can be much more bearable than you think. The following is a list of moving supplies that, if you're smart, you just won't do without!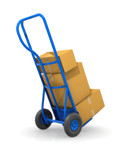 1.  Boxes- Seems the most obvious of moving supplies, but many people delay getting boxes till the last minute and then are forced to try to fit single items in the cracks and crannies. As soon as you know a move is imminent, start collecting boxes. Not to worry, though, if you've delayed– at Port City Movers, we've got boxes, boxes and more boxes to help you out!
2.  A Moving Truck– Ever tried to fit a piano into the trunk of your car? It's pretty difficult. Actually, it's impossible. Again, at Port City Movers, we deal with truck rentals, so we can help you out in that department, too.
3.  Moving Blankets– It's such a bummer when grandma's heirloom china hutch gets scratched in a move. Avoid that entirely by covering important things with moving blankets, so you can confidently pack and stack. At Port City Movers, we got you 'covered' in the blanket department.
4.  A Dolly– That refrigerator is definitely not moving itself, and like the little red hen, your friends might all be suddenly unavailable when you mention needing help with it. Get a dolly. It saves you time, backaches, and friendships. Dollies are available for rent from us at Port City Movers.
5.  A Plan of Attack– Decide what needs to be moved out and in first. What will you need available as long as possible at the old place, and what will you need to get to first at the new place? At Port City Movers, we can advise you on your plan of attack, as we have years of experience moving people and know what works best.
Are you seeing a trend? When it comes to moving supplies and what you just can't do without, the place to come is Port City Movers!