Are you intimidated by the idea of rental trucks? Let's go over some helpful tips for renting them, the best way to utilize their space, and returning them.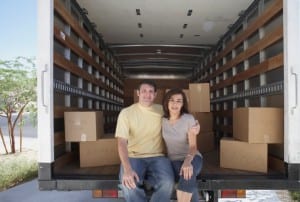 When considering a company that provides rental trucks, you should choose one that has several years of experience and is reputable. At Port City Movers, our rental trucks are provided by Penske. We promise clean, reliable, and fuel-efficient rental trucks that are ready to go upon pick-up.
It is best that you reserve your rental trucks at least a month in advance when planning a move. This way, you can ensure that it is all set up and you won't be stuck last minute without a rental truck.
When packing rental trucks, utilizing the space available is key. We are happy to spend time with you to assess the size of truck necessary for your particular needs.
Here are some tips for loading rental trucks.
Load heavier items, such as appliances and furniture, near the front of the truck, behind the cab.
If there are shelves or a 'mom's attic' in the upper part of the truck, this is a good place to store valuables or fragile items that require a smoother ride.
Stack boxes on top of heavier items, such as furniture, in order to evenly distribute weight.
Load items last that will be needed first. This ensures that you will be able to reach and utilize them first when unloading.
When you are returning rental trucks, make sure that the interior is clean and in the same condition as you found it. If any small accidents or bumps occur to the exterior of the vehicle, please let us know, so we can assess any damages. Also, it is always a good idea to return rental trucks with a full tank of fuel.
When you are booking rental trucks with Port City Movers and you are nervous about driving a truck, we would be happy to spend some extra time with you. We'll give you a tutorial about the truck being rented. On the other hand, if you find that you are uncomfortable with driving rental trucks, we have an excellent team of reliable movers who are available to drive the truck for you. We want your experience with our rental trucks to be a positive one, and we are happy to meet your individual needs.