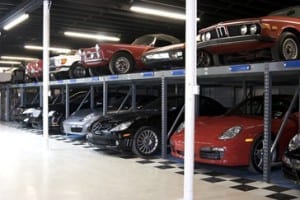 There are as many reasons to store your vehicle as there are cars, trucks, boats, RVs, and jet skis. Here are a few things to consider when determining whether vehicle storage fits you and your needs:
Am I making the best use of my currently available space? If your garage is overflowing with everything except your vehicles, there are multiple options for storage or garage organization. If space can be cleared and objects moved to a better place, you may once again be able to utilize the garage for its intended purpose.
I'm renting or in a place where there's no storage space large enough. In this case, a rented vehicle storage space may provide an easier access than other possible places to park or store your vehicle.
Vehicles stored or parked inside are safe from weather hazards, including hail, snow, and damaging winds.
A vehicle in storage is not on the street and is protected from any potential vandalism.
How often do you use this particular vehicle? If it's a seasonal need like a boat or jet ski, storing it during the cold winter months after it has been winterized might provide the best possible solution to your needs.
At Port City Movers, we're here to help you with all your moving and vehicle storage needs. We've been moving North Carolina since 1970. We serve primarily Charlotte, Mooresville, Lake Norman, Cornelius, and Huntersville, but are more than willing and able to assist in your move anywhere in North Carolina or any of the surrounding states. We can provide boxes, trucks, and movers to assist you. No matter what your particular needs might be, we're always "A Good Move."