Our residential moving services in North Carolina include packing, unpacking, loading, unloading, and much more.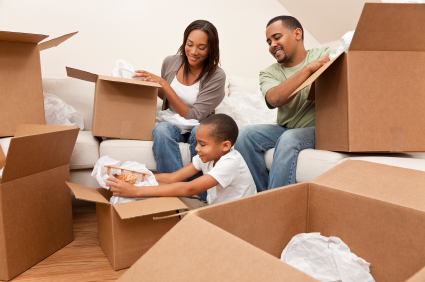 The reasons you are relocating your residence can be as varied as the menu of residential moving services you can choose from. You could be moving as a result of a job transfer, the need to move closer to family, moving to a larger or smaller home, or perhaps just to get into a neighborhood in North Carolina that you've had your eye on for some time. When it comes to residential moving services, you can have us do every part of the move, or you can take on some parts yourself. It all has to do with your budget and the free time you have.
Packing / Unpacking: Our residential moving services can include doing the packing and unpacking for you. This is a huge time saver, especially for large households. It is also a way to ensure that all your belongings are carefully handled, as professionals know all the right ways to pack the various types of belongings to make sure they arrive in the same condition as they left. At Port City Movers, we go one step further with our packing and unpacking services, in that we always use fresh, new packing materials for each customer. Most residential moving services companies reuse their packing materials, which we feel doesn't give your belongings the special treatment they deserve.
Loading / Unloading: Our residential moving services can also include loading and unloading your belongings, using your rental truck or our trucks. We can also provide you with a rental truck if you want to do the driving yourself. The advantage of using our services is that we are experts at loading, so every inch of space is used in the truck, thereby reducing the chances of needing additional trucks or more than one trip.
At Port City Movers, we can also store your belongings if there will be a gap of time between leaving one residence and getting into the new one. Give us a call, and we can go over our menu of residential moving services and give you an individualized quote, so you can decide which items you want our help with.
---
At Port City Movers, we offer residential moving services in Mooresville, Davidson, Cornelius, Huntersville, Concord, Troutman, Statesville, Harmony, Charlotte, Indian Trail, Pineville, Belmont, Gastonia, Matthews, Mint Hill, Monroe, Harrisburg, China Grove, Salisbury, Cleveland, Denver, Maiden, Lincolnton, Stanley, Hickory, Newton, Conover, New London, Albemarle, Highland Creek, Pine Creek, Skybrook, Mountain Island, Lake Wylie, Lake Hickory, Lake Norman, Iredell County, Mecklenburg County, Cabarrus County, Catawba County, Union County, Rowan County, Lincoln County, Gaston County, and the rest of North Carolina. We also handle long-distance moves to South Carolina, Virginia, Tennessee, Georgia, & Florida.