Our commercial movers in North Carolina can move your business' items over long or short distances, saving you time and money.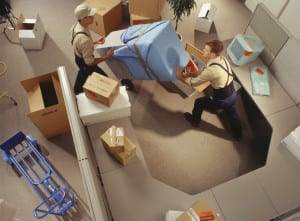 There are many benefits to hiring our professional commercial movers for your next big moving project. Our commercial movers can move your business' items over long or short distances; this saves you from having to make multiple round trips and will ultimately save you time and money.
Another benefit of our commercial movers is that we have the trucks and equipment to move your property. You do not have to rent and drive a big rig that usually requires training and licensing. Instead, our professional movers will bring the moving truck to you, and load up all the heavy boxes and furniture in your office to save your employees' backs.
Many people rely on friends, family, and neighbors to help out when they are moving to a new home, especially with moving heavy property like electronics and furniture. But when it comes to commercial moves, this really isn't an option. Our professional commercial movers are trained to pick up and move heavy items correctly to avoid injuries, and they will take great care in moving and placing your "fragile" labeled boxes.
Hiring our commercial movers can truly be an economical advantage for you. When moving a business, there are a lot more supplies needed than just boxes and a moving truck. You will most likely need blankets to cover furniture and electronics so they will not receive damage from other items on the trip. Our commercial movers will also have trolleys and other items to more easily move heavy items to avoid strain or an accidental dropping.
Looking forward to moving is a daunting vision, just packing up your office can cause anxiety. If packing is the only thing you have to worry about, though, your mind will be more at ease. You will not have to "puzzle" out how to fit all of your items on the truck, or make the hundreds of trips back and forth to get more boxes. In the end, time, money, and sanity will be saved and your move will be quick and smooth. And if you don't even want to worry about packing, we can do that, too!
Here at Port City Movers, we know how important a smooth move is for you and your business. We want to be able to help in whatever way we can to lower the stress that moving usually causes. We are commercial movers located in Mooresville, North Carolina, and we are here to help. Not only can we help you move all over the state of North Carolina, but we can also help transport your property out of state if necessary. We can move your business to any surrounding state, such as Virginia, Tennessee, Georgia, Florida or South Carolina.
We offer fast and friendly service, and we offer you a one time free delivery of the packing supplies that you will need. One way we stand out from the competition is that you will be delivered brand new packing supplies, not previously used. This helps reinforce your trust in the product designed to keep your property safe during the move.
In addition to commercial moving services, we also offer residential moving services and storage services. If you prefer to move your own property, we offer moving truck rentals that are perfect for one-way trips on out-of-state moves. For more information about our commercial moving services, or to set up your moving day with us, please contact us.
---
At Port City Movers, our commercial movers serve Mooresville, Davidson, Cornelius, Huntersville, Concord, Troutman, Statesville, Harmony, Charlotte, Indian Trail, Pineville, Belmont, Gastonia, Matthews, Mint Hill, Monroe, Harrisburg, China Grove, Salisbury, Cleveland, Denver, Maiden, Lincolnton, Stanley, Hickory, Newton, Conover, New London, Albemarle, Highland Creek, Pine Creek, Skybrook, Mountain Island, Lake Wylie, Lake Hickory, Lake Norman, Iredell County, Mecklenburg County, Cabarrus County, Catawba County, Union County, Rowan County, Lincoln County, Gaston County, and the rest of North Carolina. We also handle long-distance moves to South Carolina, Virginia, Tennessee, Georgia, & Florida.