For high-quality packing materials, visit our location and pick up what you need.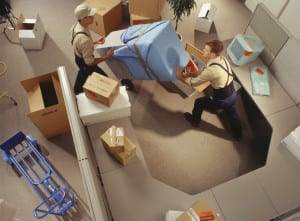 When you're preparing to move from one place to another, one of the most substantial aspects of the process is packing your stuff so it can be transported. You likely have some belongings that are especially important to you, so protecting these items is a necessity when you're packing them up. Simply throwing your stuff into whatever boxes you can get your hands on isn't the best way to handle this process. When you open your boxes at the new residence, you may find that your valuable items are damaged because they weren't properly and securely packed.
At Port City Movers, we want to help make sure that your possessions are protected throughout the moving process. We offer a wide selection of packing materials that can help you pack up more securely, or we can bring packing materials into your home and handle the process of packing for you. You may know that moving companies provide loading, transport, and unloading services, but we also provide packing services that can truly eliminate the stress of moving.
If you'd rather handle the packing yourself, we can provide you with tips and tricks that will help your belongings arrive to the new place in one piece. We have been serving customers in Cornelius, North Carolina and the surrounding area for more than four decades, and over the years we have learned quite a bit about how to properly pack items. For high-quality packing materials, visit our location and pick up what you need.
---
At Port City Movers, we offer packing materials to those in Mooresville, Davidson, Cornelius, Huntersville, Concord, Troutman, Statesville, Harmony, Charlotte, Indian Trail, Pineville, Belmont, Gastonia, Matthews, Mint Hill, Monroe, Harrisburg, China Grove, Salisbury, Cleveland, Denver, Maiden, Lincolnton, Stanley, Hickory, Newton, Conover, New London, Albemarle, Highland Creek, Pine Creek, Skybrook, Mountain Island, Lake Wylie, Lake Hickory, Lake Norman, Iredell County, Mecklenburg County, Cabarrus County, Catawba County, Union County, Rowan County, Lincoln County, Gaston County, and the rest of North Carolina. We also handle long-distance moves to South Carolina, Virginia, Tennessee, Georgia, & Florida.