Whether you want to pack yourself or hire us to do it for you, we can provide brand new packing materials for your move in North Carolina.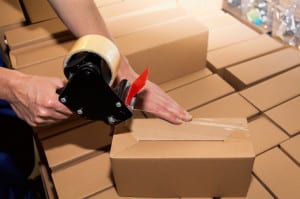 One of the most important parts of making a move is protecting your belongings with the right type and right amount of packing materials. It is often tempting to try to get by with less, and you can do that with things for which a few scratches or dents might not matter, but when it comes to fragile items and those of sentimental value, scrimping could leave you wishing you hadn't.
There are two options for packing when preparing for a move. One is to obtain your packing materials on your own and do the packing yourself. The other way is to hire a professional moving company. While you might know that you can hire a moving company to load and unload your belongings, what you may not know is that we can be hired to do the packing and/or unpacking as well. Furthermore, we are more than happy to share our knowledge about packing materials with you if you wish to do the packing yourself.
At Port City Movers, we've been helping North Carolinians move for over 40 years. Whether you are moving somewhere else in the state or further away, we can help you with packing supplies and a successful move. We handle both residential and commercial moves, as well as truck rentals if you want to do the entire job yourself. It's always a good move to call us at Port City Movers. Whether we help you with part or all of the move, you'll know you are in good hands!
---
At Port City Movers, we offer packing materials to those in Mooresville, Davidson, Cornelius, Huntersville, Concord, Troutman, Statesville, Harmony, Charlotte, Indian Trail, Pineville, Belmont, Gastonia, Matthews, Mint Hill, Monroe, Harrisburg, China Grove, Salisbury, Cleveland, Denver, Maiden, Lincolnton, Stanley, Hickory, Newton, Conover, New London, Albemarle, Highland Creek, Pine Creek, Skybrook, Mountain Island, Lake Wylie, Lake Hickory, Lake Norman, Iredell County, Mecklenburg County, Cabarrus County, Catawba County, Union County, Rowan County, Lincoln County, Gaston County, and the rest of North Carolina. We also handle long-distance moves to South Carolina, Virginia, Tennessee, Georgia, & Florida.