Whether you need short-term or long-term boat storage in North Carolina, come by and see our facility.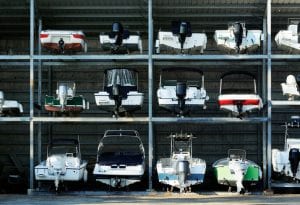 Enjoying our wonderful North Carolina lakes and other bodies of water on your boat makes for great memories and a lot of fun. Unfortunately, each year, the wonderful boating weather ends, and winter means trying to figure out what to do with that boat to keep it safe and protected. The best thing to do is look into boat storage options.
If your boat is small enough, you could store it in your garage, but do you really want to do that? Not only does it take up valuable space, but it is a constant reminder that winter is going to last longer than you hope – because even one day of winter is too long when you are a boat lover! It can be pure torture to look lovingly at that boat day after day knowing it is going to be weeks or maybe even months before you can take it out again.
At Port City Movers, we have the solution for you – boat storage. We have storage units available that are perfect for your boat to protect it from harm such as weather and vandalism. Some people even choose to use our boat storage all year long, coming to get their boat on the weekends or whenever they want to take it out. Whether you need short-term or long-term boat storage, come by and see our facility. We think your boat will like it here, and you'll feel good that you're giving it the best care possible.
For all your storage and moving needs, think Port City Movers – coming to us is always a good move!
---
At Port City Movers, we offer boat storage services to those in Mooresville, Davidson, Cornelius, Huntersville, Concord, Troutman, Statesville, Harmony, Charlotte, Indian Trail, Pineville, Belmont, Gastonia, Matthews, Mint Hill, Monroe, Harrisburg, China Grove, Salisbury, Cleveland, Denver, Maiden, Lincolnton, Stanley, Hickory, Newton, Conover, New London, Albemarle, Highland Creek, Pine Creek, Skybrook, Mountain Island, Lake Wylie, Lake Hickory, Lake Norman, Iredell County, Mecklenburg County, Cabarrus County, Catawba County, Union County, Rowan County, Lincoln County, Gaston County, and the rest of North Carolina. We also handle long-distance moves to South Carolina, Virginia, Tennessee, Georgia, & Florida.