We offer RV storage in North Carolina that is well-kept, well-lit and well-guarded.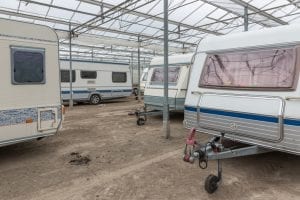 Purchasing an RV is a sizeable investment, especially for something that you probably don't use every day. In order to protect that investment, you need to have a plan for where to keep it when it is not in use. While you could store it in your driveway, that leaves it exposed to the weather, and you run the risk of a guest or even a family member running into it with their vehicle. It also isn't very well-guarded there. You could build a large enough garage structure to keep it in, but that is also a huge investment – one that may not add to the value of your home if a future buyer doesn't need it. The third, and best, option is RV storage.
At Port City Movers, we offer RV storage that is well-kept, well-lit and well-guarded. This protects your investment while keeping it handy for those spontaneous weekend road trips. Another reason for using our RV storage service is that you may find that you get a better insurance premium if your insurance company offers a discount for guarded RV storage. They know there is less chance for a claim due to theft, vandalism or even collision if your RV is kept in a storage facility.
We are a family owned business and have been helping North Carolina residents with moving and storage needs for over 40 years, so you know you can count on us for safe and affordable RV storage.
If you have questions about RV storage and how we can help, call or stop by our facility. We've never heard a bad word from any of the RVs that hang out at our RV storage, so we know your RV will love it here!
---
At Port City Movers, we offer RV storage services to those in Mooresville, Davidson, Cornelius, Huntersville, Concord, Troutman, Statesville, Harmony, Charlotte, Indian Trail, Pineville, Belmont, Gastonia, Matthews, Mint Hill, Monroe, Harrisburg, China Grove, Salisbury, Cleveland, Denver, Maiden, Lincolnton, Stanley, Hickory, Newton, Conover, New London, Albemarle, Highland Creek, Pine Creek, Skybrook, Mountain Island, Lake Wylie, Lake Hickory, Lake Norman, Iredell County, Mecklenburg County, Cabarrus County, Catawba County, Union County, Rowan County, Lincoln County, Gaston County, and the rest of North Carolina. We also handle long-distance moves to South Carolina, Virginia, Tennessee, Georgia, & Florida.