You'll love our self storage units in North Carolina because they are heavily monitored, locked and lit at all times.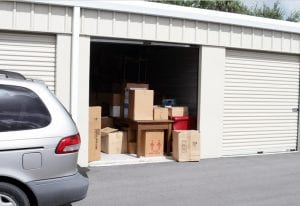 There are a number of things that can happen in your life that may lead you to consider self storage units. One situation is a change in residence. This might be from a larger home into a smaller one, or it could be two families coming together as one. Another is when you inherit a nice set of furniture, but haven't yet figured out where to put it until you can use it or sell it. It might also be just a case of wanting someplace to keep those seasonal items, like Christmas decorations and your lawn and garden equipment, so they don't fill up your garage. These are just a few of the many ways in which self storage units can help you out.
Whether you need to de-clutter your home or just need a temporary solution, give us a call at Port City Movers. Not only do we have ideal self storage units, but we can also help you get your belongings moved. Even if you don't need our moving services, you could rent a truck from us to make the move easier. You'll love our self storage units because they are heavily monitored, locked and lit at all times. We take safeguarding your belongings extremely seriously, so you can feel confident about storing anything you don't need at home all the time.
Our storage services extend past self storage units to vehicle storage, boat storage and RV storage, as well. This gives you the versatility you need to decide just what to keep in your garage and what to send offsite. Self storage units are also a great way to store excess inventory for your business.
It's a good move to come over and see what we have to offer. Contact us today for more information about our self storage units in North Carolina.
---
At Port City Movers, we offer self storage units to those in Mooresville, Davidson, Cornelius, Huntersville, Concord, Troutman, Statesville, Harmony, Charlotte, Indian Trail, Pineville, Belmont, Gastonia, Matthews, Mint Hill, Monroe, Harrisburg, China Grove, Salisbury, Cleveland, Denver, Maiden, Lincolnton, Stanley, Hickory, Newton, Conover, New London, Albemarle, Highland Creek, Pine Creek, Skybrook, Mountain Island, Lake Wylie, Lake Hickory, Lake Norman, Iredell County, Mecklenburg County, Cabarrus County, Catawba County, Union County, Rowan County, Lincoln County, Gaston County, and the rest of North Carolina. We also handle long-distance moves to South Carolina, Virginia, Tennessee, Georgia, & Florida.